Rainbows are taking over the internet!
I love rainbows!
We each created our own cute little cotton ball cloud
with
a rainbow of ribbons streaming out of it
Here's how we did it:
First we gathered a few plastic fruit cups, some yarn, and some ribbon
(That ingenious ribbon storage idea was inspired by this pin)
I poked small holes in the top of the cups with a push pin before we started
Set your cups aside and start picking out your ribbon and yarn
I asked the girls to shoot for at least one of each color of the rainbow
Cut the lengths however long you want
I like the look of the varying lengths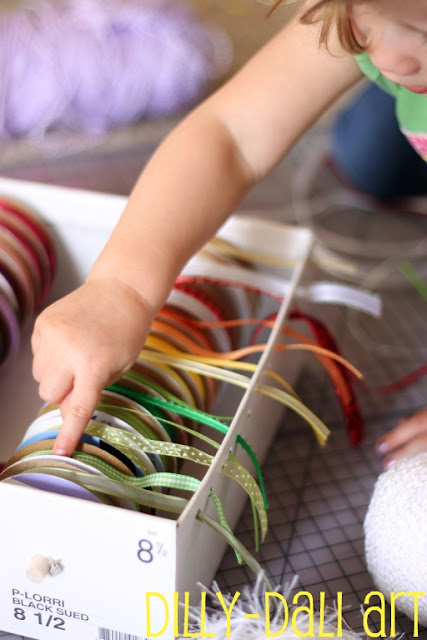 When you're done picking out your ribbon and yarn,
you should have a nice colorful pile smiling back at you!
Lay the ribbons out meeting the ends (of one side) together
Tie the ribbons together with a string
After this step I tied some fishing line around the ribbons as well
I threaded the fishing line through the middle of the ribbon and out the top of the ribbon bundle
then pulled the fishing line through the hole in the plastic fruit cup
and hot glued the fishing line inside the cup
and
on top of the cup (after pulling the ribbon all the way inside the cup)
Here are our plastic fruit cups with their ribbon rainbows glued in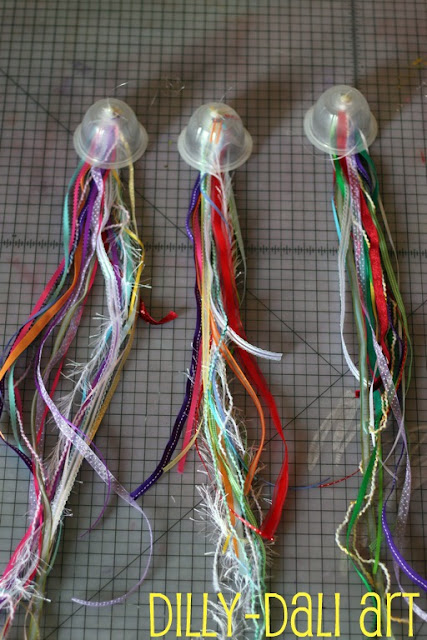 Next, we glued cotton balls all over the outside of the plastic fruit cup
Look at this teamwork!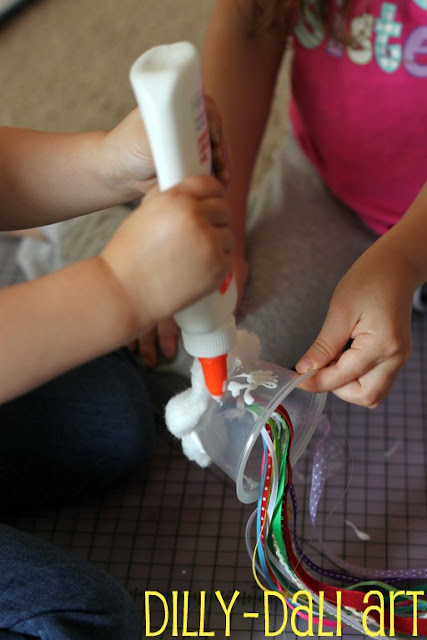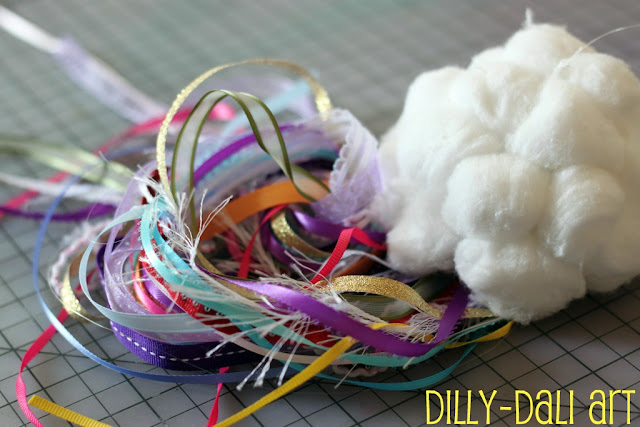 Here are our ribbon rainbows and cotton ball clouds hanging up!
I can't help but smile when I see these hanging in the room
Just brightens up my day!
How are you liking the rainbow trend?
Do you have a favorite rainbow project?
You can find more rainbow activities on my
Rainbows Pinterest board!