This is a post I was debating on publishing.
Then I realized that just maybe,
I'm not the only one this has happened to
and
just maybe,
you think you're the only one.
This is a post about collages
and
letting go of expectations.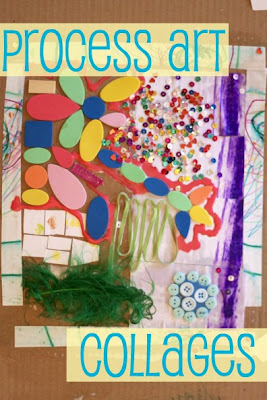 I was really excited about this process art post,
I've been saving doodle paper for weeks waiting to cut it up and turn it into something new.
I was expecting this project to be exciting to the girls
I was expecting them to know what to do
I was expecting this activity to last an hour or two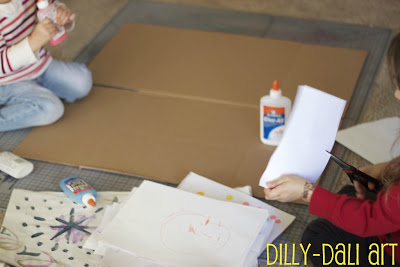 Guess what,
none of that happened.
When I set everything out
C
seemed excited.
She started cutting the paper
then, she asked me to cut the paper into squares for her.
She brushed some glue onto the cardboard
slapped on the little squares
and said,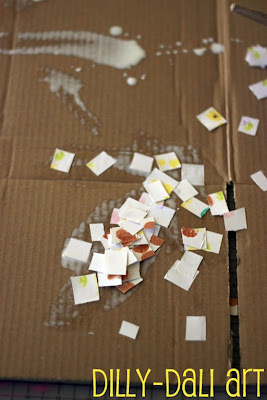 That took about 5 minutes.
I bit my tongue.
I wanted to tell her she wasn't done
I wanted to tell her that she did it too fast
but I didn't.
Instead,
in an attempt to extend the activity a little longer,
I brought out a few other collage materials.
Shapes, sequins, ribbon, yarn and feathers.
I sat down beside her
and
we created together.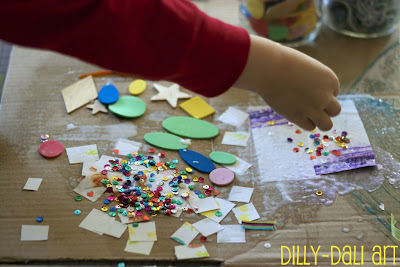 As we worked side by side
I noticed C paying careful attention to what items I used and how I used them,
she was very curious about why I was doing what I was doing.
By the time she was done, her collage looked very similar to mine
(in the first picture)
Total time spent on this project,
10-15 minutes.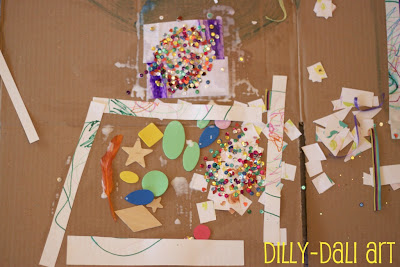 C's collage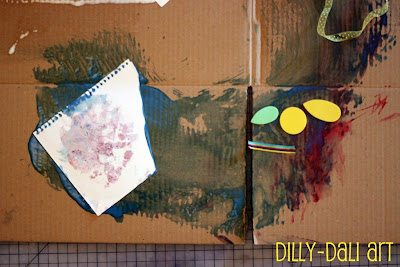 A's collage
Creativity takes practice.
I had to let go of my earlier expectiations
Letting go helps me to step back and realize
the more I bring the materials out,
the more
C
will be willing to explore with them.
The more she explores, the more exciting it will be for her.
The more exciting it is for her, the more she will want to spend time on it.
The collage is now an ongoing project.
Since we started it on a cardboard box,
I was able to fold it neatly in half and set it aside
ready to be brought out when we want to add to it.
How do you encourage your child to explore a new material or technique?