This week for our Inspired series we explored the bright colors and bold lines of
James Rizzi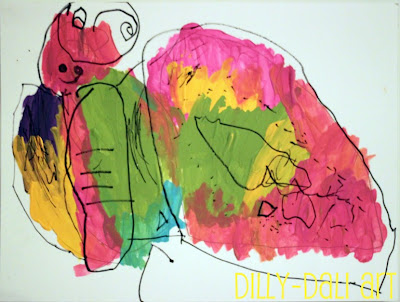 I first discovered James Rizzi in an unfortunate way
I learned of his recent death on
Deep Space Sparkle's Facebook page
.
I was intrigued by the picture that was posted with the article and had to find out more about him.
I found this neat video slideshow of some of his work
Then I found this great Skype interview he did with an elementary after school art class
View Part 2 of the interview
here
you can also read about it from the art teacher (conducting the interview) on her blog
here.
How awesome is he!?
You can really tell he enjoyed what he did
and was interested in helping and encouraging future artists.
At one point in Part 1 of the interview, Rizzi was asked what his favorite medium was.
He responded with acrylics on canvas.
So I decided that would be what we tried.
Materials
Acrylic Paint
Paper or Canvas
(we used 100lb Bristol paper)
Black Marker
How To
To try and create a piece of work in the style of James Rizzi
we viewed quite a few pictures of his work online.
I discussed with the girls how he painted the things he saw around him.
His home, New York City, the people he saw, and the things that made him happy.
So I asked C what she would like to paint, she chose a butterfly.
I'm not 100% sure on what Rizzi's process was, so I did what would be easiest for the girls
We drew our images on paper with pencil first
then painted in the images with our bright colors.
When our paintings were dry
we traced around them with black permanent marker.
C's finished butterfly is in the middle.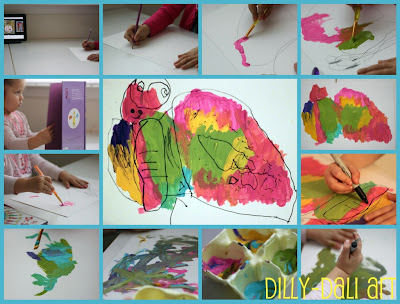 The above method proved to be a bit difficult for C.
The acrylics were harder for her to paint with to fill in the larger spaces,
so I decided to try a simpler version of Rizzi style art.
Deep Space Sparkle has a
James Rizzi Art Lesson
that uses watercolor and oil pastel
I thought C would enjoy this better since the oil pastel draws easily on the paper without a lot of pressure and the watercolor fills a larger space with less effort.
Almost instant gratification
C drew an adorable little Shrek-like person
when it came time to paint in the features with the watercolor
she was a little over ambitious and completely covered the whole person in a red blob of color.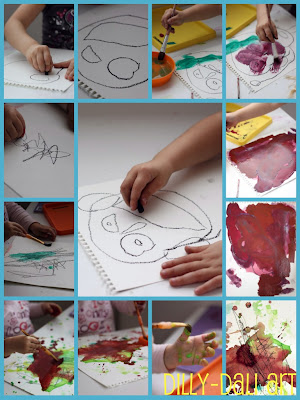 Though we really enjoyed learning about James Rizzi and giving his technique a try,
I discovered that C (and definitely A) are not quite ready to create in his style.
Rizzi is definitely an artist we will be revisiting in the future
He is known for creating 3D constructions
as well as
interactive magnetic paintings (FUN!)
which consist of
different backgrounds
(with metal behind them) and
magnetic figures
that can be moved around the painting.
I think the girls would enjoy playing around with those ideas when they are a bit older.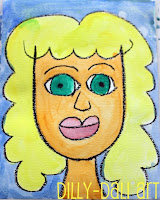 Here are the two pieces I created using the different techniques!
What artists or art movements inspire you?