You might not know it
but when you let your kids fingerpaint
they are actually learning.
It's an artistic movement called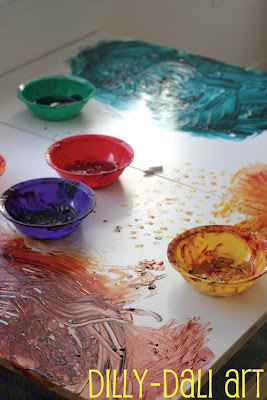 Process art is basically allowing your child (or even yourself) to explore art, no holds barred
It's all about the process of
finding out how the materials will move you
and what you'll be inspired to create
I thought fingerpaint would be the perfect first post for this series
You only need two things:
fingerpaint
fingers
I set out paper at the beginning but by the time the girls were done
they were painting directly on the table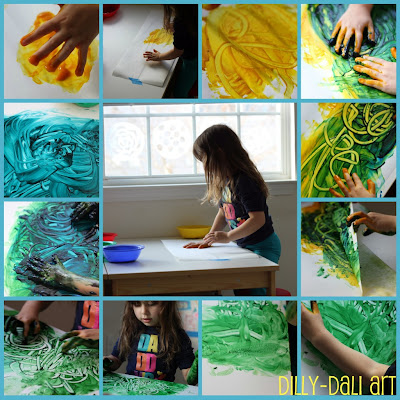 Process art is fun because you can sit back and let little hands do all the work
Though, that doesn't mean you should sit out
Take time to observe how your child thinks through the process
I took note of how C and A worked:
----------
C (who is four) did a lot of work with the tips of her fingers
A (who is two) mostly used her palms down flat
----------
A ended up with a warm palette
C finished with a cool blue ocean
----------
Both girls were completely engrossed through the whole process
there were very little words uttered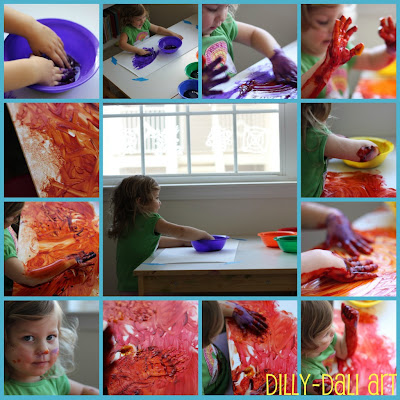 Even if you don't get a picture to hang on the fridge,
you're still benefitting through what your child is learning:
----------
Stimulated Senses: C immediately exclaimed, "It's squishy! It feels just like jelly!"
----------
Developing Hand-Eye Coordination: I noticed the girls were moving both hands in a symmetrical way, it would be fun to experiment with moving hands in different ways at the same time
----------
Color Mixing: When swirling around paints, new colors are bound to emerge
----------
Fine Motor Skills: Squishing paint between fingers will certainly strengthen hand muscles
----------
Therapeutic: Ruth Faison Shaw, who "re-discovered" fingerpaint and developed it into an art
education medium, devoted her attention to the benefits of fingerpainting and how the process helps to free the soul
----------
Fun: No explanation needed for this one!
In the end, it's all about the experience
and if you suddenly find yourself wanting to jump in on the fun
Go ahead, jump!
Who knows what you'll end up creating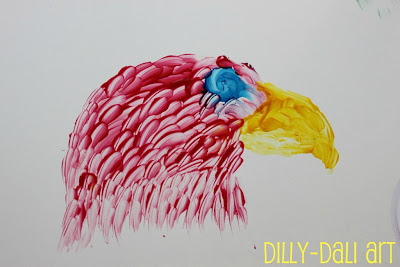 Try some fingerpainting and come back to tell me about your child's process!
Want to read more about process art?
Check out these posts:
Art for Children~ Nuturestore
An Art Exploration ~ Teacher Tom
Art and Learning ~ Bernadette Rego