Last year
I had so much fun making an activity calendar
for my girls that I decided to make it an annual tradition.
This year's calendar is all finished and even though I made most of it, the girls were still able to add their own special touch.
I started by making a list of special activities to do with the girls
they are mostly holiday related activities like:
go see Christmas lights
visit Santa
and
make Christmas cookies
I gathered up some paint chips and wrote an activity on the back of each one
Then I stapled the paint chips into a chain
(just like the
paint chip chain
Melissa from
The Chocolate Muffin Tree
made)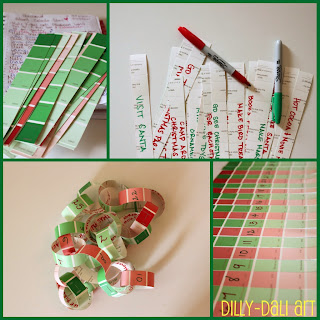 Next, I cut out a Christmas tree shape from a cardboard box
I painted it dark green and then used light green to create the illusion of needles
When the paint was dry the girls completely covered the tree with glitter glue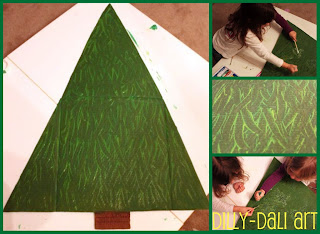 Not only are the girls going to be able to cut one link of the chain down each day
but
I also printed out
this fabulous list of holiday jokes
from Cathy at
Nuturestore
bought a 25 piece puzzle
(I'm the only one that knows what the picture is)
to give them a piece each day
and
have holiday stickers for the girls to place on the tree each day
I can't wait to see what it looks like with all the stickers on it

I'm really excited for the calendar this year, I have a lot of fun activities planned.
Be sure to follow along with the calendar
here
I will be blogging about each day starting December 1!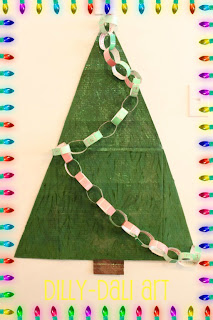 Linked to:
Critters&Crayons Homemade Christmas Link Party
The Sunday Showcase
Monday Madness