We haven't made any Christmas tree ornaments this year
but
we did make some last year before I started blogging
Unfortunately,
I don't have any step-by-step pictures
but, I do have step-by-step instructions!
These "sign" ornaments are made with craft sticks: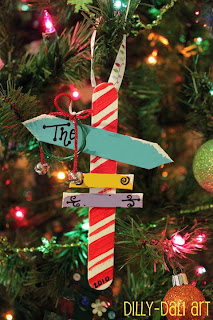 1. Paint large craft sticks with candy cane stripes to be the "pole"
I painted a white base and then red stripes over the white
2. Paint regular-sized craft sticks which ever color you'd like to be the "sign"
3. Write what ever you'd like your sign to say and write it on your craft sticks
My signs say: Santa Stop Here, North Pole, and a family name (on a large craft stick) with the two family members underneath, to give as a gift
4. Cut the craft stick signs and glue them to the pole
I cut some into arrow shapes
5. Decorate your signs
Some have white paint and cotton with a sprinkle of glitter for snow
One has a felt holly leaf with bead holly berries
One has a green wire wreath with a red ribbon bow and tiny little jingle bells
6. Glue a ribbon loop on the back to hang on the tree
and Voila! an adorable Christmas sign
These adorable "cupcakes" are made with pom poms, glitter and cupcake liners:
1. Use whichever mini cupcake liners you'd like and glue a large pom pom into it
2. Squirt glue on the top of the large pom pom and sprinkle it with glitter
3. Glue a small pom pom on top
4. Once all the glue is dry use a needle to string some thread through the middle of the pom pom
5. Tie the thread at the top to create a loop and hang your cupcakes on the tree!
This cute Christmas tree is super simple to make: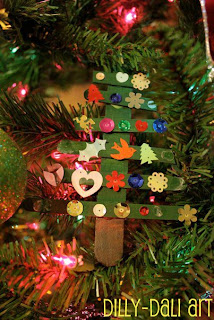 1. Paint some regular-sized craft sticks green and a large craft stick brown
2. Cut the regular-sized craft sticks so they gradually get smaller to create a Christmas tree triangle shape
You may have to place them on the large craft stick to determine how much to cut off to create a triangle shape
3. Glue the regular-sized craft sticks to the large craft stick "trunk"
4. Glue a variety of sequins to the craft stick branches
5. Glue a ribbon loop to the back of the tree and hang your mini tree onto your big tree!
I love how this snowman turned out, it's made out of a lightbulb!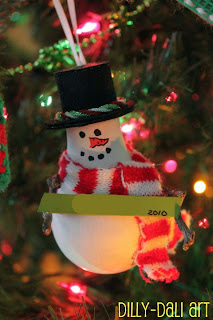 1. Paint an old lightbulb white
2. Glue some little sticks to the sides of the lightbulb for arms
I wanted my snowman holding a sign so his arms stick straight out in front of him
3. Draw or paint a face onto the lightbulb
I used Sharpie markers
4. Add a hat and scarf or your favorite snowman accessories
I made my snowman's top hat out of stiff felt and his scarf was recycled from another snowman plushie
5. Add a sign (if you want) and glue it into the snowman's arms
This snowman has a family name on it
6. Glue a ribbon loop to the top of the hat and hang him on the tree
Or give him to a friend which is what we did!
I can't wait to make some new ornaments this year to put alongside our ornaments from last year!